This strawberry salad is amazing! Once spring is starting I like to eat a little lighter. I prefer to make my own dressings versus buying them because they taste lighter and are way more flavorful. 
Sunday
Monday
Tuesday

Leftover Strawberry Salad with Mojito Vinaigrette
Pan fried chicken

Wednesday

Leftover Bell peppers and Pasta
Salad
Thursday
Friday
Saturday

Leftover Hearty Beans and Rice
**Note if the links above are not working the PDF version is below. Simply go to the day of the meal then expand the menu and click on the PDF link. 
Grocery List - Store brand (Metro Detroit)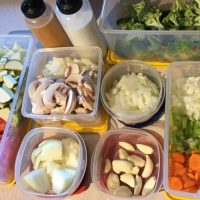 I like to gather my storage containers before I start my prep.  I love the look of the table with all of the containers and as I make progress the containers disappear leaving me with a sense of accomplishment and encouragement to keep going. This picture is an example of one of my prep weeks.
Storage containers needed:
1 cup; red onion
2 cup; onion
2 cups; green pepper and red pepper
¼ cup; garlic
6 cup; cauliflower
Let's start chopping!
Thinly slice 1 red onion then place in 1 cup container; refrigerate.
Dice 2 onions (2 cups) then place in 1 cup container; refrigerate.
Dice 1 green pepper then add to the 2 cup container; set aside.
Dice 1 red onion then add to the green pepper in the 2 cup container; refrigerate.
Peel 4 cloves of garlic then place in ¼ cup container; refrigerate.
Cut cauliflower into florets then place in 6 cup container; refrigerate.
Tips and Tricks for the weekly meals to go flawlessly!
Always start by reading the recipe all the way through then read my tips.  Doing this before you start will help prevent "surprises" along the way. 
If I've posted it then I have eaten it and called it good.  Also, I know that the portions should work because I have done it.  No guess work here. Measuring out your portion might be new for you and still leave you hungry after the meal. This is normal and it will take your body time to adjust. Try these tips:
Don't miss your afternoon snack because being ravenous at dinner time will lead to over eating. 
Drink 8 ounces of water before you begin your meal and after you end your meal. 
Eat a salad or raw vegetables with your meal.
Eat a piece of fruit after a meal like an apple, pear, orange, etc. This will subside the hunger and it's good for you. 
Wait 1 hour after your meal and if you are still hungry make some pop corn.