Weekly Dinners for 2 under $70 – Menu 4 will give you ideas or the exact menu and grocery list for this weeks dinners. Substitute different vegetables if you don't like the ones I've selected. Also, if you don't like some of the spices found in the recipes substitute them for ones you do like.
All recipes are suggestions. I can't remember the last time I followed a recipe exactly to how it was written. I use what I have to keep cost down. If I don't have the pasta it calls for I just make one I do have. If I don't have the type of beans it suggests I use ones I do have. 
Rice – 
I prefer the taste of long grain rice, basmati rice or jasmine rice versus minute rice. I know cooking rice can sometimes be tricky but just watch your heat to water ratio and you will be just fine. I bought a rice maker and it has taken away the worry of burning rice on the stovetop and generates perfect rice every time. I highly recommend getting one if you don't already have one.
Dinners for the week - About $69.60
Grocery List - Store brand (Metro Detroit)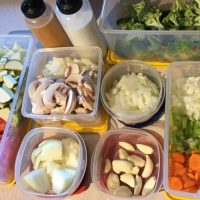 I like to gather my storage containers before I start my prep.  I love the look of the table with all of the containers and as I make progress the containers disappear leaving me with a sense of accomplishment and encouragement to keep going. This picture is an example of one of my prep weeks.
Storage containers needed:
I like to use a sticky note or paper with a piece of tape to label my prep containers with the name of the meals.
1/2 cup; 10 cloves peeled garlic
4 cups; 1 pound trimmed green beans (Side)
4 cups; 24 oz. brussel sprouts (Side)
4 cups; 2 zucchini, 2 red pepper, 1 onion (Italian Sausage and Vegetables)
3 cups; 3 onions chopped (Beef Tacos, Rice, Tortellini Primavera)
1 sandwich bag; shredded cheese (Rice)
Multiple Meals
Peel 10 cloves of garlic; refrigerate.
Side:
Trim green beans but do not rinse; refrigerate.
Trim brussels sprouts and cut in half but do not rinse; refrigerate
Italian Sausage and Vegetables
2 medium zucchini cut into 1 inch pieces; refrigerate
2 medium red peppers cut into 1 inch pieces; store with zucchini
1 onion cut into wedges; store with zucchini and red peppers.
Beef Tacos, Rice and Tortellini Primavera
3 onions, chopped; refrigerate.
Rice
Use a box grater on the largest side to grate pepper jack cheese block. Add to sandwich bag and store in refrigerator.
Tips and Tricks for the weekly meals to go flawlessly!
Always start by reading the recipe all the way through then read my tips.  Doing this before you start will help prevent "surprises" along the way. 
If I've posted it then I have eaten it and called it good.  Also, I know that the portions should work because I have done it.  No guess work here.
Measuring out your portion might be new for you and still leave you hungry after the meal. This is normal and it will take your body time to adjust. Try these tips:
Don't miss your afternoon snack because being ravenous at dinner time will lead to over eating. 
Drink 8 ounces of water before you begin your meal and after you end your meal. 
Eat a salad or raw vegetables with your meal.
Eat a piece of fruit after a meal like an apple, pear, orange, etc. This will subside the hunger and it's good for you. 
Wait 1 hour after your meal and if you are still hungry make some pop corn.