A dear friend of ours turned us on to pesto and I will thank her forever for it. I love the one pot chicken pesto dish because it is filling as well as addicting so be sure to set aside your next meal before you start to eat or you might find yourself eating the whole dish! 
I am not a huge fan of adding nuts to my dinner dishes so I pick the almonds off of the apricot almond chicken but Andrew loves this dish with almonds. I hope you like this dish as much as we do!
Sunday

Steamed Potatoes
Steamed Green Beans

Monday
Tuesday

Leftover Apricot-Almond Chicken Breasts
Steamed Potatoes
Green Beans

Wednesday

Leftover One-Pot Chicken Pesto Pasta
Salad
Thursday
Friday
Saturday

Leftover Mongolian Beef
Sugar Snap Peas
Grocery List - Store brand (Metro Detroit)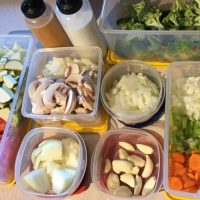 I like to gather my storage containers before I start my prep.  I love the look of the table with all of the containers and as I make progress the containers disappear leaving me with a sense of accomplishment and encouragement to keep going. This picture is an example of one of my prep weeks.
Storage containers needed:
Container with lid for 1 pound green beans, trimmed.
Container with lid for 5 green onions, about 1 cup
Container with lid for 1 pound broccoli, chopped
Let's start chopping!
Trim green beans, cut in half, add to container and store in refrigerator.
Cut green onions in 1 inch pieces add to container and store in refrigerator.
Chop broccoli into bite size pieces, add to container and store in refrigerator.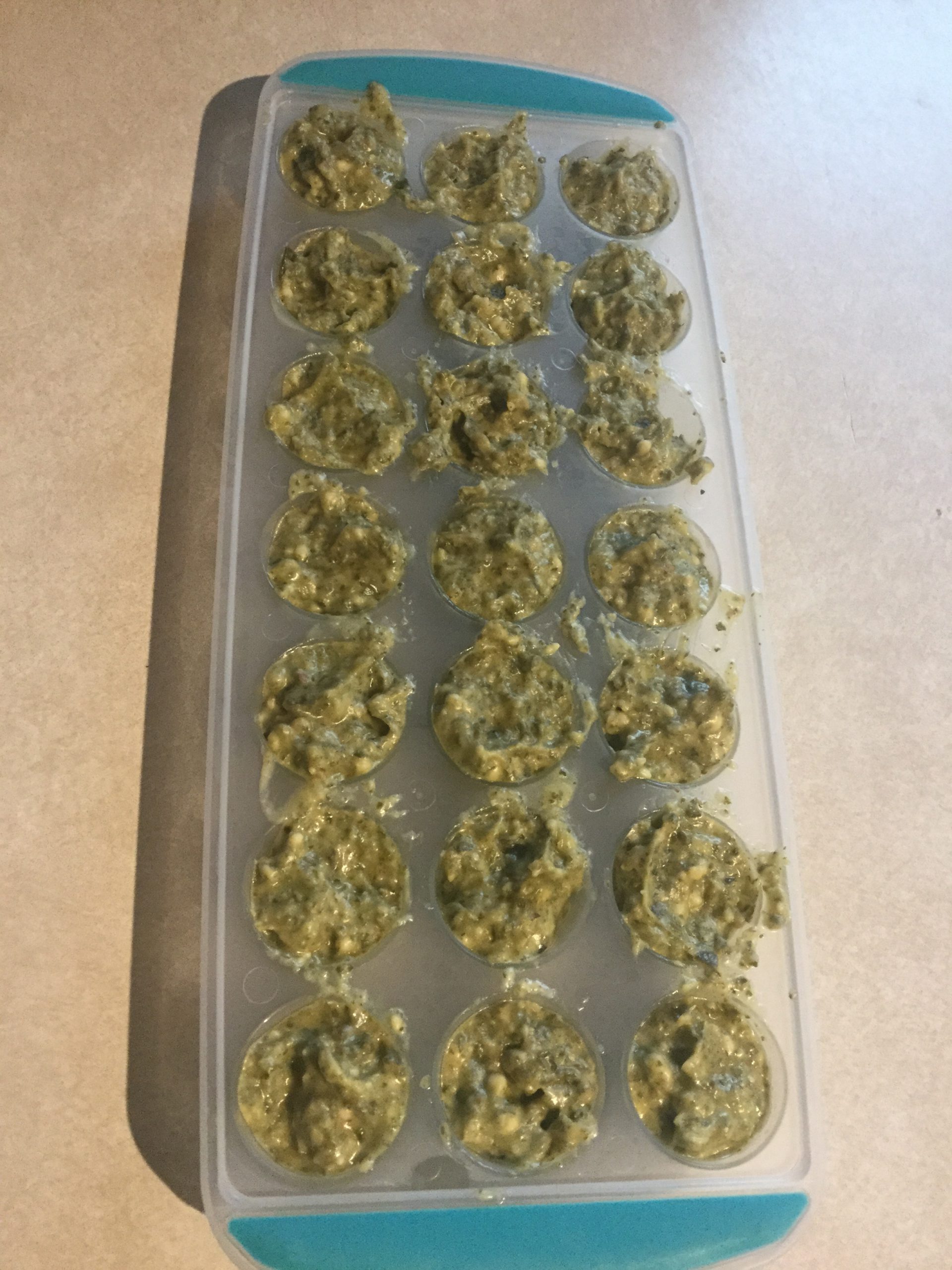 Pesto
I like to freeze unused pesto in ice cube trays. I simply fill each cube with about 1 teaspoon of pesto. Once the tray is full I freeze for 24 hours then place in a freezer zip bag. This makes it easy to use pesto whenever I need it and best of all I don't waste it.
Tips and Tricks for the weekly meals to go flawlessly!
         Always start by reading the recipe all the way through then read my tips.  Doing this before you start will help prevent "surprises" along the way. 
         If I've posted it then I have eaten it and called it good.  Also, I know that the portions and things should work out because I have done it.  No guess work here.