Hummus is a wonderful snack or as a side dish. I love making hummus from scratch because I know exactly what is in it. I have made hummus from a can and from dry beans. I prefer making hummus from dry beans because I think dry beans have  a lot more flavor.  
Hummus is great to customize to your liking. If you don't like the seasonings you can substitute seasonings you like or just use salt and pepper. You can also add more or less garlic or roasted red peppers. The variations are endless. 
If you make a pound of chick peas/garbanzo beans then you will be able to make several servings of hummus. I also like to put chick peas in salads or roast them and eat them as a snack. Start from dry beans and see if you like the flavor better than canned beans.
How to Cook Chick Peas from Dry Beans
1 pound of garbanzo beans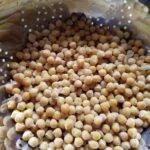 8 cups of water
1 teaspoon of salt.
Seal the Instant Pot. Press the Bean/Chili button.
Change the Pressure to "less" and timer to 20 minutes.

Pressure options are usually less, normal, high.

After 20 minutes release the pressure. Do not do a natural release.
Drain the beans in a colander immediately.
Place beans on a sheet pan and let cool for 1 hour then place in a container to refrigerate or freeze
If you make the full pound of garbanzo beans you can make 3 batches of hummus. I like to freeze the leftover beans and use them at a later time. Place the sheet pan with the beans in the freezer for about 6 hours. Once the beans are frozen add 2 cups into freezer bags.
Cost Per Serving $2.09 as of April 2023
If you have zero ingredients then this recipe will cost about $16.73.
If you have a fully stocked pantry this recipe will cost about $7.29. 
The cost per serving is reduced to $0.91.
I do not include salt and pepper in the cost of this recipe. 
Recipe serves: 8
Serving size: 1/4 cup
Equipment needed: food processor, sauce pan
Total time: 15 minutes
I do not include salt and pepper because I assume it is already in your pantry. If you have a fully stocked pantry you will save about $7.29.
Total: $7.29 as of April 2023
Total: $9.44 as of April 2023
1 pound garbanzo beans

$1.49
Ingredients
2 cups of chick peas
2 tablespoons tahini
1 clove garlic, minced
zest 1 lemon
1 lemon, juiced
1/2 teaspoon salt
1/2 teaspoon ground pepper
1/4 teaspoon cumin
1/4 teaspoon paprika
1 tablespoon olive oil
Prep
Complete the prep from the tab above.
Add garbanzo/chick peas to a sauce pan. Cover with 1 inch of water and bring to a boil. 
Once the beans are boiling turn off.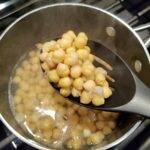 Remove the beans from the pan and place into the food processor but reserve the water. 
Add 2 tablespoons of the reserved water.
Pulse 10 times
Add the tahini mixture
Turn on the food processor for 6 – 8 minutes until smooth. 
Add more of the reserved water if the mixture is too thick. 
Remove the hummus from the food processor.
Sprinkle with paprika and cumin
Cover with 1 tablespoon olive oil. Enjoy!