Weekly Dinners for 2 under $70 – Menu 6 will give you ideas or the exact menu and grocery list for this weeks dinners. Substitute different vegetables if you don't like the ones I've selected. Also, if you don't like some of the spices found in the recipes substitute them for ones you do like.
Do people really grill in the winter months with snow on the ground? Yes, we do and it is worth it. I find myself getting the winter blues about February. Grilling really helps get me through the last few months of winter. I pick a day that is free from precipitation, temperature above 20° F, and little to no wind then fire up the grill. If you live in a cold climate I encourage you to give this a try! 
All recipes are suggestions. I can't remember the last time I followed a recipe exactly to how it was written. I use what I have to keep cost down. If I don't have the pasta it calls for I just make one I do have. If I don't have the type of beans it suggests I use ones I do have. 
Dinners for the week - About $68.27
Grocery List - Store brand (Metro Detroit)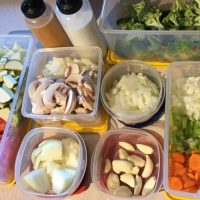 I like to gather my storage containers before I start my prep.  I love the look of the table with all of the containers and as I make progress the containers disappear leaving me with a sense of accomplishment and encouragement to keep going. This picture is an example of one of my prep weeks.
Storage containers needed:
I like to use a sticky note or paper with a piece of tape to label my prep containers with the name of the meals.
3 cup; carrots (Side)
3 cup; green beans (Side)
¼ cup; 4 peeled garlic
3 cup; 1 large onion & 1 red pepper (Thai Restaurant Chicken)
2 cup; 1 medium onion & 1 jalapeno (Vegetarian Bean Taco)
Sides:
Peel and slice 4 carrots 2 inches long. Make sure the thickness is even or slice them in half for even cooking; refrigerate. 
Trim green beans but do not wash; refrigerate. 
Peel 4 garlic cloves; refrigerate.
Thai Restaurant Chicken
Wash and slice 1 red pepper then place in storage container; set aside. 
Slice 1 large onion (1.5 cups) then place in same container with red pepper; refrigerate.
Vegetarian Bean Taco
Dice 1 medium onion (1 cup) then place in storage container; set aside.
Wash and thinly chop jalapeno (wear disposable gloves) then place in same container with chopped onion; refrigerate.
Tips and Tricks for the weekly meals to go flawlessly!
Always start by reading the recipe all the way through then read my tips.  Doing this before you start will help prevent "surprises" along the way. 
If I've posted it then I have eaten it and called it good.  Also, I know that the portions should work because I have done it.  No guess work here. Measuring out your portion might be new for you and still leave you hungry after the meal. This is normal and it will take your body time to adjust. Try these tips:
Don't miss your afternoon snack because being ravenous at dinner time will lead to over eating. 
Drink 8 ounces of water before you begin your meal and after you end your meal. 
Eat a salad or raw vegetables with your meal.
Eat a piece of fruit after a meal like an apple, pear, orange, etc. This will subside the hunger and it's good for you. 
Wait 1 hour after your meal and if you are still hungry make some pop corn.