Ree Drummond's pizza dough is great tasting and mostly easy to work with. It comes together quickly but it is best after it sits in the refrigerator for 2 to 4 days. Half of the dough easily feeds Andrew and I for 1 meal. I freeze the other half for a different night. 
I've been trying different pizza dough recipes through the years and they have all brought me challenges. Some are really hard to work with because they don't stretch or it is easy to make holes in the dough. Some doughs have different flavors because of yeast to flour ratio or type of flour. 
Equipment for making Pizza Dough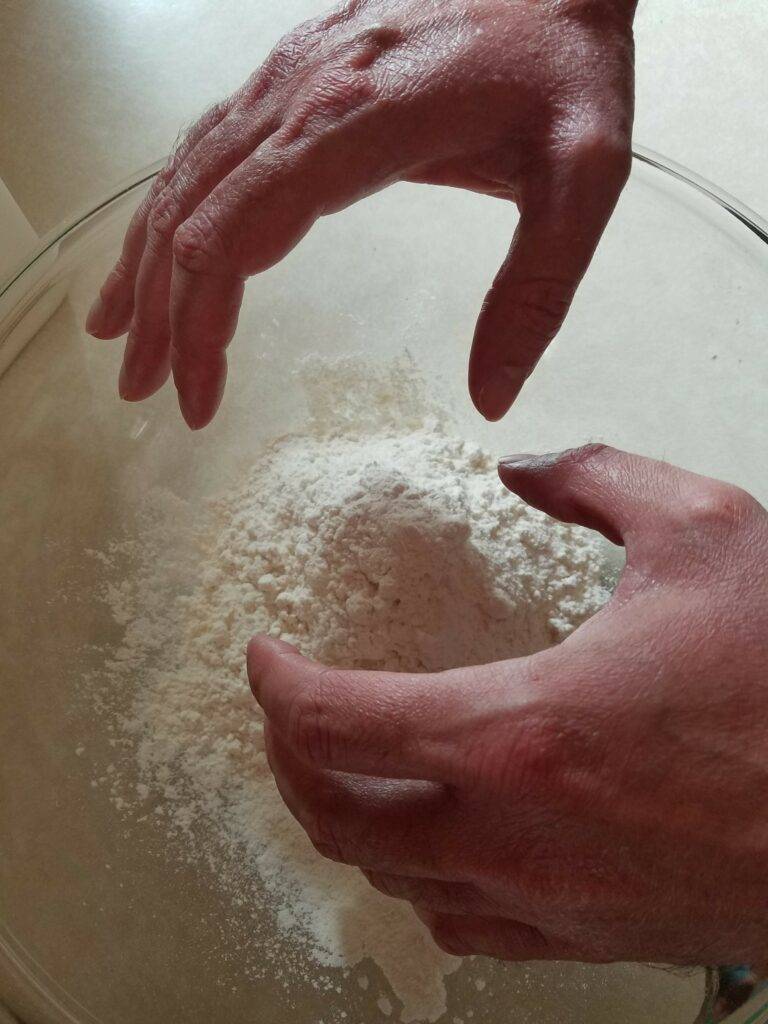 By Hand
You can also make this recipe by hand but it is a very sticky dough so be prepared.  
However you choose, pizza dough will be the output that you'll want to make again and again.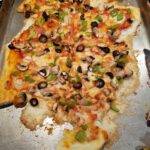 Have you ever made pizza dough and have it stick to the pan.
Yeah, me too! It is the worst. You can fix this by adding corn meal to the sheet pan but even better use parchment paper!
Yield: 2 Pizzas
Recipe serves: 4 – 6
Serving size: 1/4 of the pizza
Total time: 30 minutes
Ingredients
1 ~ 1/2 cups water 
1 teaspoon active dry yeast
4 cups flour
1 teaspoon salt
1/3 cup olive oil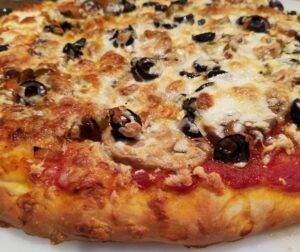 Heat 1.5 cups water between 110° F and 115° F.  If the yeast is too cold it will take longer to activate if it is too hot then it will die.

Be mindful if you are placing the heated water in a cold bowl because it will cool the water.

Add 1 teaspoon yeast to measuring cup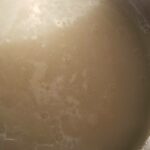 Let stand for at least 10 min. When you start to see these bubbles you will know your yeast has activated.
Sift 4 cups of flour into the sand mixer bowl
Mix in 1 teaspoon of salt.
Turn the mixer on low and slowly add oil to combine with the flour.
Slowly add the yeast water until a sticky mixture is formed.

NOTE: If you add all the yeast water this might be a watery mess. Add 1/4 cup of flour at a time until it comes together as dough.
Coat a large bowl with 1 teaspoon of oil.
Put the dough in the bowl then turn so the oil is on the top and bottom of the dough.

This dough will be very sicky. 

Place the bowl in a warm place for 1 hour.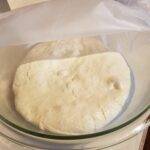 You can bake this dough right away but it is best if you refrigerate for 2 – 4 days.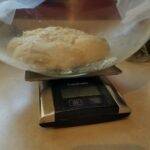 After the dough has risen I place the bowl with the dough on a kitchen scale.
You will have enough dough for 2 pizzas.
I divide the weight by 2 and remove half of the dough.
Place each dough half on parchment paper.
I have found this is the easiest way to guarantee the dough will not stick to the pan. 
Alternatively:

You can place dough on a well floured surface. 
You can place dough on a corn meal surface.
Spread dough with your hands starting with the center and push the dough out. Keep shaping the dough until you get it nice and thin.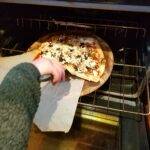 Add your sauce, cheese and toppings.
Bake at 500° for 4 minutes.
Slide a spatula under the pizza and remove the parchment paper.
Continue to bake for 8 – 10 minutes.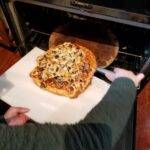 Remove the pizza from the oven. You can use a spatula to slide onto a pizza paddle or slide it directly onto your cutting board.

I like to place the pizza on a cutting board.

Let rest for 5 to 10 minutes. Enjoy!
Freezing Homemade Pizza Dough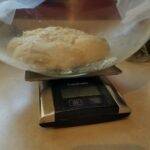 After the dough has risen I place the bowl with the dough on a kitchen scale.
I divide the weight by 2 and remove half of the dough.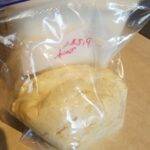 Place each dough half in a freezer bag.
I put the freezer bags in the freezer for up to 4 months.

Let's be honest it never makes it more than 1 month!
Defrosting Homemade Pizza Dough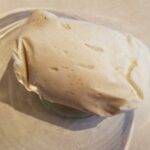 Remove the pizza dough from the plastic bag and place in a bowl.

Cover the bowl with saran wrap and place in the refrigerator for 2 – 4 days.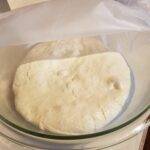 Bake as directed starting at step 12.