I love spaghetti! I am not a fan of the premade grocery store options that are high in sugar. Andrew and I have experimented several times over the years making different sauces and the one included below is one of our favorites and we hope you agree! 
Sunday
Monday

BBQ Pulled Pork 
Sweet Potatoes
Brussel Sprouts

Tuesday

Pan Seared Chicken
Leftover Vegetable Rice Skillet
Salad

Wednesday

Leftover BBQ Pulled Pork
Sweet Potatoes
Brussel Sprouts
Thursday

Homemade Spaghetti
Green Beans 
Spinach Salad

Friday

Boiled Broccoli & Cauliflower

Saturday

Leftover Homemade Spaghetti
Green Beans
Spinach Salad
Grocery List - Store brand (Metro Detroit)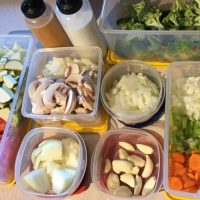 I like to gather my storage containers before I start my prep. I love the look of the table with all of the containers and as I make progress the containers disappear leaving me with a sense of accomplishment and encouragement to keep going. This picture is an example of one of my prep weeks.
Storage containers needed:
¼ cup; 6 garlic cloves, peeled
2 cups; 2 medium onions, chopped
1 cup; 2 medium carrots, sliced
4 cups; cauliflower, chopped
3 cups; broccoli, chopped
6 cups; brusel sprouts, cut in half
6 cups; green beans, trimmed
Let's start chopping!
6 garlic cloves, peeled
2 medium onion (2 cups), chopped
2 medium carrots peeled, sliced thin
1 head cauliflower, chopped bite size
½ pound broccoli, chopped bite size. Do not rinse
24 ounces brussel sprouts, stem removed cut in half. Do not rinse
32 ounces green beans, trimmed and halved. Do not rinse.  
Tips and Tricks for the weekly meals to go flawlessly!
         Always start by reading the recipe all the way through then read my tips.  Doing this before you start will help prevent "surprises" along the way. 
         If I've posted it then I have eaten it and called it good.  Also, I know that the portions should work because I have done it.  No guess work here.