Side salads are a perfect addition to any meal. I start a side salad with what is currently in my refrigerator that needs to be used up. I am a firm believer that most vegetables can be tossed onto a bed of greens to make a delicious salad. 
Don't be afraid to get creative with salad. I like to add roasted vegetables to a side salad in the winter and grilled vegetables to a side salad in the summer. You really can't go wrong. 
Dried fruit is a great addition to many different salads. Different types of dried fruit are: apples, apricots,  cherries, cranberries, etc. 
Fresh fruit or berries can also add a lot of flavor to a salad. Fruit such as pineapple, melons, apples, peaches, etc. Berries such as strawberries, bule berries, black berries, etc.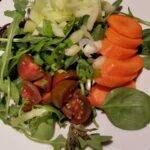 Carrots
Tomato
Green Onion
Celery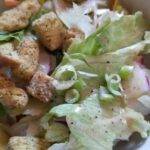 Carrots
Radishes
Green Onion
Snow Peas