A lot of ingredients are hard to find these days including jumbo pasta shells. I substituted manicotti shells but you could also substitute large shells and mix the filling with the shells instead of stuffing large shells. The serving size would be about a 1.5 cups. This dish is not only satisfying but filling. You wont miss the meat!  
Rice – 
I prefer the taste of long grain rice, basmati rice or jasmine rice versus minute rice. I know cooking rice can sometimes be tricky but just watch your heat to water ratio and you will be just fine. I bought a rice maker and it has taken away the worry of burning rice on the stovetop and generates perfect rice every time. I highly recommend getting one if you don't already have one.
Sunday

Salad with tomato, cucumber and green onion

Monday
Tuesday

Leftover Cheesy Spinach Stuffed Shells
Salad with red tomato, cucumber, and green onion

Wednesday
Thursday
Friday
Saturday

Leftover Little Meat Loaves
Potatoes
Carrots
Grocery List - Store brand (Metro Detroit)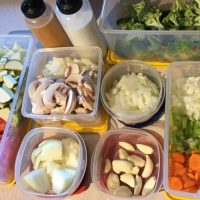 I like to gather my storage containers before I start my prep. I love the look of the table with all of the containers and as I make progress the containers disappear leaving me with a sense of accomplishment and encouragement to keep going. This picture is an example of one of my prep weeks.
Storage containers needed:
2 cup container for onions. 

1/4 cup container for peeled garlic.

1 cup container sliced black olives.
1/2 cup container for green onions
6 cup container for broccoli
4 cup container for green beans
1/2 cup container for celery rib
1 cup container for carrot
4 cup container for chopped carrots
Let's start chopping!
2 onions, finely chopped; refrigerate.
8 garlic cloves, peeled; refrigerate.
Slice olives then cover with olive brine; refrigerate.
3 green onions, chopped; refrigerate.
2 pounds broccoli cut into bite size pieces; refrigerate. Do not wash broccoli. 
Trim green beans; refrigerate. Do not wash green beans. 
1 celery rib chopped; refrigerate
1 medium carrot shredded; refrigerate
Peel the rest of the carrots and cut them into 2 inch pieces; refrigerate
Tips and Tricks for the weekly meals to go flawlessly!
         Always start by reading the recipe all the way through then read my tips.  Doing this before you start will help prevent "surprises" along the way. 
         If I've posted it then I have eaten it and called it good.  Also, I know that the portions should work because I have done it.  No guess work here.