You can save money by buying different items in bulk. Many people are hesitant to do this because they think it will be more expensive, but that is not always the case. There are many benefits of buying in bulk if you do it effectively.  
In this blog post, we will discuss the benefits of buying in bulk and provide some tips on how to do it effectively. So read on and learn how to slash your food bill by buying items in larger quantities!
Things to Consider Before You Buy in Bulk
There are a few things you should keep in mind before buying items in bulk:
Make sure you have enough storage space. If you don't have room to store everything, it's not worth buying in bulk.
Check the unit price. Sometimes buying items in bulk can be more expensive than buying them individually. Warehouse stores typically make this easy by providing the unit price right on the display.
Beware of the expiration dates. Buy what you know you can eat within that time frame.  
If you are buying perishable items for the freezer such as meat, vegetables, fruit, etc. I suggest a food saver because the food will last longer in your freezer or pantry versus a regular freezer or storage bag. 
Does buying in bulk actually save money?
In most cases, buying in bulk does save money but not always a large amount of money. It will save you from buying items frequently. This is especially true for items that you use regularly, such as toilet paper, pasta, rice, olive oil, etc. The best way to think of it is coupons. Sometimes you save a few dollars and other times you save a few cents. Over time this does add up. The key is to find a good deal on the item and then buy enough to last until the next sale.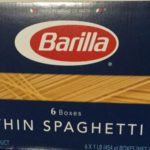 Pasta
Let's start with the name brand Barilla. This 6 pack costs $6.98 which is $1.16 for each box. At the grocery store a box is $1.45. It's a savings of $0.29 a box which adds up to $1.74 in savings.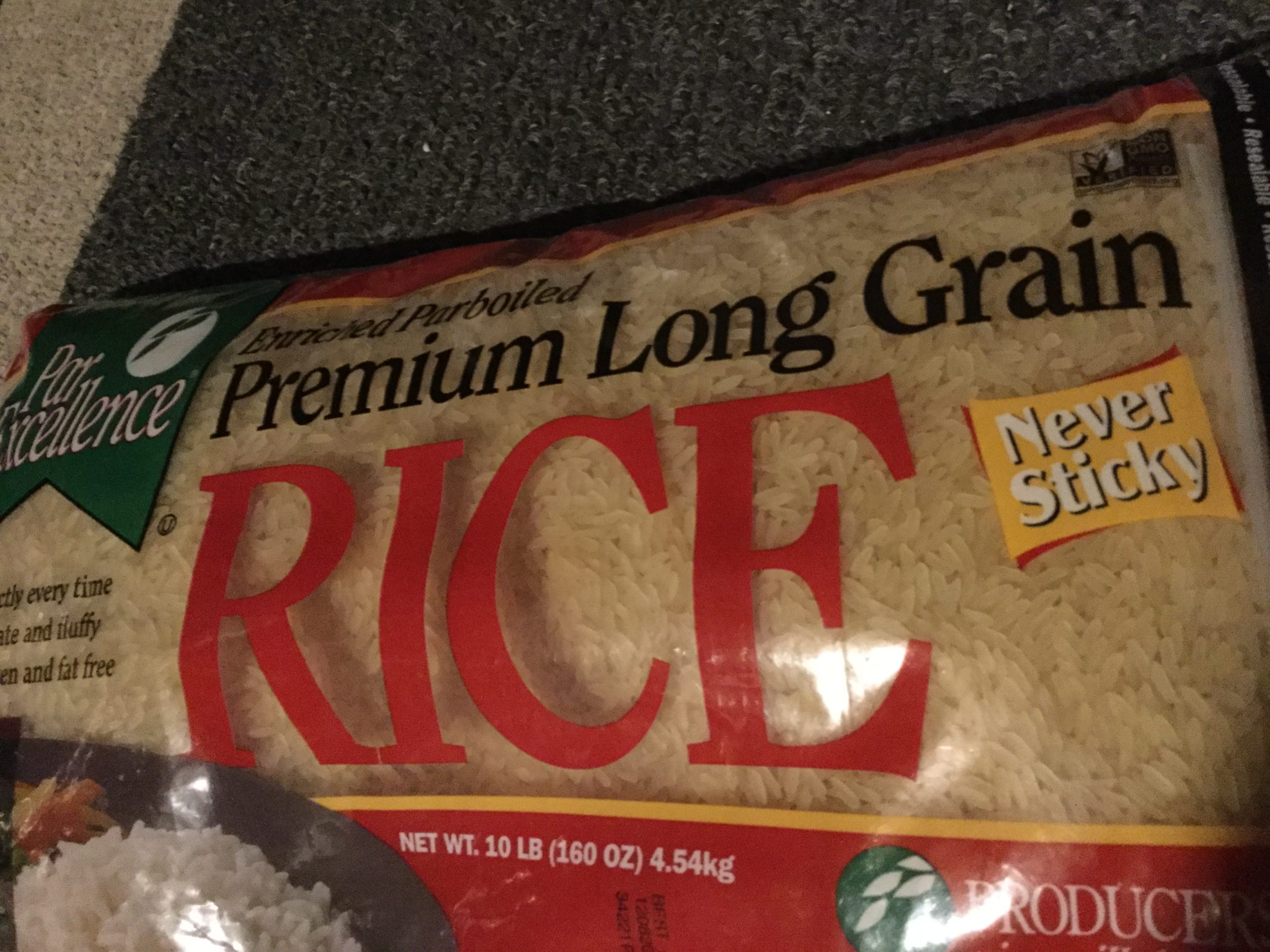 Rice
I like to buy rice in large quantities. This is a 10 Ib bag of long grain rice and it costs $5.78 about $0.58 a pound. A store brand 1 pound bag of rice is about $0.99 a pound. It's a savings of $0.41 a pound which adds up to about $4.10 in savings.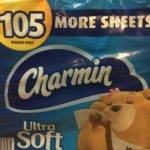 Toilet Paper
105 rolls of toilet paper costs about $22.94 this is about $0.22 a roll. 48 rolls of the same toilet paper costs $14.99 this is about $0.31 a roll. It's a savings of about $0.09 a roll which adds up to about $9.45 in savings.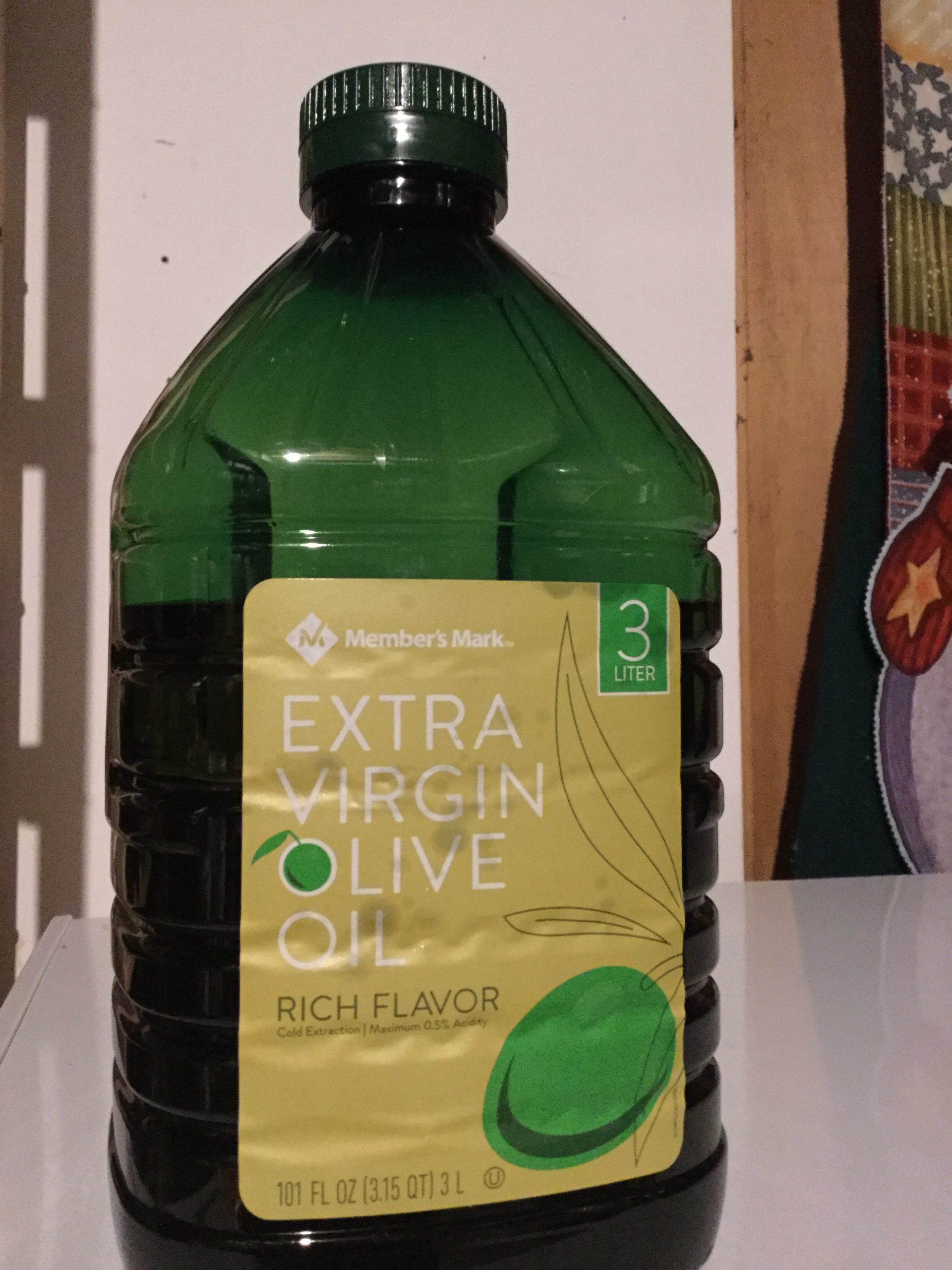 Olive oil
Store brand olive oil for 3 liters is $14.48 or $0.14 fluid ounce. Store brand 16.9 fl oz is $3.99 or $0.24 fluid ounce. It's a savings of $0.10 a fluid ounce which adds up to about $10.55 in savings.
How should I store my bulk purchases?
It doesn't take much space to enable bulk purchasing, just a little advanced planning. All you need is the space for a couple of extra shelving units and a chest freezer large enough to store a couple months of meat and perishables.
For a family of 2-4 a five cubic foot freezer is probably all you need, and it is certainly all you need to start. You can always move to a larger model if you find you need more space in the future. We had this size freezer even when we were living in a two bedroom apartment. We've since added a 7 cuft model and kept the original as well.
Pantry
Store your oldest products in a place where you will use them first. When you buy more be mindful to rotate! I keep the following products together:
oils, spices, condiments
pasta, rice & dry beans
canned tomato products
snacks
baking
Freezer
Create a system where you are not digging for your freezer products. The problem with an unorganized freezer is you will forget what is in there and the food will be wasted. I use buckets and storage containers to organize all sorts of foods in my freezer such as: 
Meat
Nuts
Produce
Beans
Flour
Homemade meals
Is buying meat in bulk cheaper?
Buying meat in bulk can be cheaper, but there are a few things to keep in mind. First, make sure you have enough freezer space to store the meat. Also like with any bulk purchase, compare the unit price of buying meat in bulk versus buying it individually. Finally, only buy as much as your family will use in 6-8 months time. Good Housekeeping has a chart that will help you know how long meat can be stored in the freezer.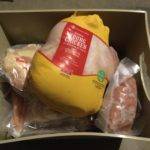 Chicken
My chicken box consists of ground chicken, bone in chicken breast, boneless chicken breasts, chicken thighs, and whole chicken. I wait for the brand of chicken I buy to go on sale and then buy an extra or two for my freezer.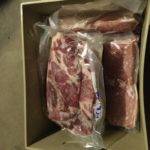 Pork
My pork box consists of pork chops, pork loin, ribs, pork steak, and brats. I buy them in the family pack and freeze the extra. The savings will vary depending on the sale you find.
Nuts
I buy walnuts and pecans in bulk from a warehouse store. Walnuts from the grocery cost about $0.63 oz. versus the warehouse store at $0.27 oz.. I buy 3 pounds of walnuts and this is a savings of about $0.36 oz. or $17.28. Pecans from the grocery store are about $0.67 oz. versus the warehouse store at $0.41 oz.. I buy 2 pounds of pecans and this is a savings of about $0.26 oz. or $8.32.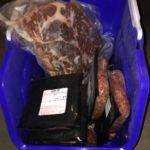 Beef
I buy my beef from a farmer to ensure the best quality. I buy a half cow and split it amongst friends and family. It is expensive but worth every penny. See if it is right for you: https://simpsonsmeats.com/
Buying a quarter or half cow is a great way to save money on meat. The average price for a quarter of beef is around $350, which works out to be about $50 per month if it lasts you seven months. This averages out to be cheaper than buying meat at the grocery store. 
You can also get higher quality meat by buying directly from a farmer. There are many options that are grass-fed and free of antibiotics or hormones. Buying meat in bulk from a farmer can be expensive, but it will come already packaged and ready to go directly into the freezer. It's worth it if you want the best quality meat for your family.
Things you should be mindful of when buying in bulk
It probably goes without saying, but things such as produce, dairy products, grain products, etc. require a plan such as freezing the extra before they go off.
We often buy things like bell peppers or fruit when they are on sale. We set aside what we can eat and cut up the rest to freeze. Peppers and other vegetables from the freezer are perfect in soups, fajitas, and in many other cooked preparations.
I chop the produce, place it on a sheet pan and put the pan in the freezer overnight. In the morning I vacume seal in the portions I choose. 
So, what are you waiting for? Start buying in bulk and save money. It doesn't take much extra space to store your bulk purchases, so there's no reason not to do it! And who knows, maybe you can even convince some of your friends and family to start doing the same. By banding together we can all make our dollars stretch a little bit further.