I have lived on a budget that covered my bills and left me about $20 for food that needed to stretch for two weeks and I have lived on a budget where the entire second income was considered extra.  I have to tell you both are hard in different ways.
I was in college working part time and going to school full time with rent, utilities, car insurance, gas, books, etc. as bills. I had a choice to make. I could go full time at my job and continue with school full time at night or ask my parents for help. Fate intervened in this case because my mom came to visit me. We live about 200 miles apart. I was at work when she arrived and went looking for a snack. Ha! What she found was minute rice, peanut butter, canned beans, and ramen noodles. Next, she went to the refrigerator where she found mayo, ketchup, mustard, and a pitcher of Britta water. I was not around for her frenzied freak out but she informed me later quite thoroughly.  She filled my cupboards with more staples such as bread, pasta, canned vegetables, etc. and my refrigerator with a few basics such as milk, butter, cheese and lunch meat. She went home and told my father the way I was living and after dinner that night he took their leftovers and put them in the freezer. My mom asked him what he was doing and he said, "feeding Christin". I visited a couple of weeks later and to my surprise I had a cooler full of freezer meals to take home with me. We lived like this for a couple of years and then my car gave out. I opted to work full time and finish my last bit of school full time at night so I could afford a new car and food.           
This was my first budget at the beginning of the month: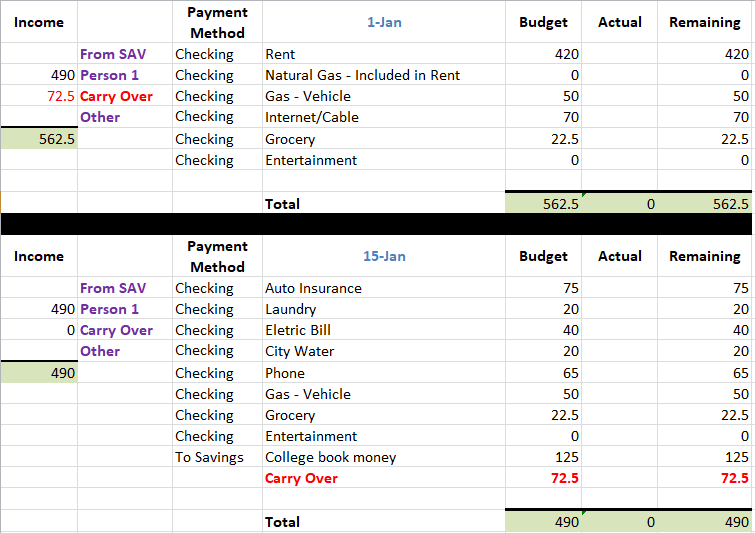 Let's talk about what you see above:
Income column is the amount of money I brought in each month.  If I was taking money from savings I would enter the amount next to "From SAV". "Person 1" income is the money I earned from my job. "Carry Over" is money I saved from one paycheck to pay the bills in the next paycheck.  The first of the month required more money than I brought in so I needed to save money from my second paycheck to make sure that the first of the months bills got paid in full.  The "Other" category is used for bonus pay, gifts and tax refunds. Essentially any money that I did not earn but received is considered "Other". I totaled my income column and made sure my "Budget Total" matched. It is important to plan where your money is spent to make sure it doesn't just disappear. Payment method column tracks how I paid my bills.  At this time in my life I did not pay my bills on a credit card so everything came out of checking. If I had "To Savings" as a payment method I moved this amount to my savings account until I needed it.  The "Budget" column is how much I allocated to categories per pay period based off what I paid in previous months. The actual column is how much I spent.  The "Remaining" column is money I did not spend or amount I over spent.
End of month budget example: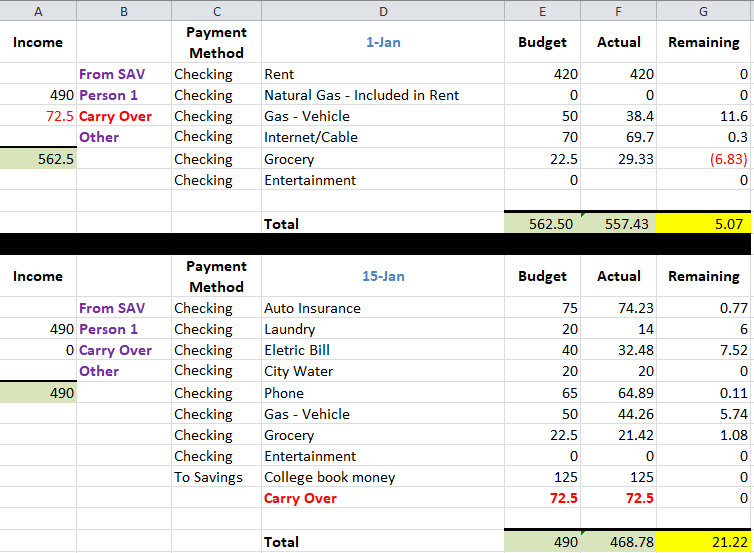 In this example I came out ahead for the month.  I would add up the $5.07 and $21.22 and place the total $26.29 into my savings account.  I would usually spend this money on "Entertainment" eventually. I consider entertainment things like movies, dinner out, bowling, coffee bar, etc. Sometimes this extra money was pulled from savings when I had a bad month and "blew the budget".  It happens to all of us. There is always next month!
Try it yourself! I created a google doc where you can create a copy in your personal google drive to customize your monthly budget. Once the google doc is open go to File > Make a Copy > OK. You must be logged into your google account in order to save this document in google drive. Then start to edit in your own private budget google doc.