Making chili is a great inexpensive way to feed your family or a large crowd. This meal tends to be budget friendly, which can make it a great option when hosting guests. Even if you are the only one eating chili in your household, this meal is certainly worth preparing, including the time it takes to smoke the chili (and stand in the cold while doing it!) which I'll show you how to do!
In this guide we hope to answer all of your questions about making the best pot of chili, and of course provide you with a delicious smoked chili recipe to give your taste buds a run for their money. There's nothing like gathering the family around a big pot of chili on a cold winter night.
Your Chili Questions Answered!
It is believed that chili originated in Texas.  The dish was originally created with just meat and spices, but people began adding beans for more nutrients not long after. Adding beans also helps to add to the frugality of this dish making it stretch further without the adding more meat.
People in the United States loved this simple recipe so much that the popularity of the recipe spread. The first chili competitions in the US started in the 1950s, and today the International Chili society hosts around 150 chili cook-offs annually!
What ingredient makes chili taste like chili?
The main ingredient in chili that gives it that distinctive taste is the cumin. This popular spice adds a bit of earthiness and some sweetness to your dish. It also helps to balance out some of the spicier ingredients that you may throw into this delicious meal.
Should chili have beans in it?
While popular, the addition of beans is the cause of great debate among chili enthusiasts. Chili "purists" will say that there is no place for beans in chili as the original recipe didn't include them, others want the extra bit of frugality and additional protein provided by the beans.
My take is, make it how you like it! The International Chili Society has even added a "with beans" category so that settles it. With beans or without, you can still call it chili, and should make it how you like it!
What kind of meat should I put in chili?
The meat in chili is traditionally beef, but you can use any ground meat that you like. If you don't want to use ground meat, chuck roast makes a great option, or some other inexpensive cut can keep the meal budget friendly. The long cooking time allows you to make a tougher cut of meat melt-in-your-mouth tender.
You'll want to brown and drain the meat before adding the rest of the ingredients. In our smoked chili recipe we'll actually cook the ground beef separate from the rest of the ingredients and add it to the chili at the end. The ground beef will smoke over the simmering chili pot, which is why people sometimes call it "over the top chili".
Is Over the Top Chili greasy?
Even though the ground beef cooks above the dutch oven in this chili recipe, we did not find the finished chili greasy. I think this due to the fact that we used ground beef with a 90/10 ratio and cooked everything at a fairly low temperature.
Will the chili get better the longer it cooks?
Yes, the longer you cook your chili the better it will become. The flavors of the spices and meat come together after some time, making this meal taste even more delicious as it cooks
There is no real harm in letting your chili come to a boil, but if you want it to have the best flavor possible, keep it at a simmer and cook for several hours. I've found that using a dutch oven makes it much more difficult to burn your chili.
This is because a dutch oven is heavy, which means that it retains heat well. This allows you to keep heat low and still maintain a simmer. I would imagine you would have similar results with a cast iron pot, but I've not tried that. The longer you cook your chili the better it will be!
What are the best secret ingredients for chili?
The chili recipes that have become the most famous are all said to have some sort of "secret ingredient". Some popular ingredients include:
Beer
Cocoa powder
Bacon
Vinegar
Cinnamon
Dark chocolate
Worcestershire sauce
A "secret blend" of chili peppers
Our recipe doesn't make use of any of these, but it does have some of it's own specials ingredients. We we use fire roasted diced tomatoes and chipotle peppers as their smokey notes work well with the natural smoke flavor we will be introducing into our dish.
One of the other things that make this smoked chili recipe special is that it doesn't have some of the typical ingredients like bell peppers or garlic powder.
What are the best ingredients for topping my chili?
Everyone likes their chili a little bit different, which is why there are so many different chili recipes out there! Some popular toppings include:
Chopped green onions
Sour cream
Shredded Cheddar Cheese
Tortilla chips or strips
Cornbread (of course!)
The list of toppings for chili is almost endless, but these are some of the more popular options. If you want to change things up a little bit, consider adding avocado slices or cilantro. A good cornbread recipe will also be the perfect pairing with your chili for serving! I'll include my favorite corn bread recipe that pairs perfectly with a good spicy chili!
How can I thicken my chili?
There are a few ways to thicken your chili, it's really a matter of personal preference. You can use flour, but that can lead to lumps, which you definitely want to avoid. I find the best method for thickening chili is to mash some of the beans before adding them. This additional starch is usually all you need to create the texture you want.
Another option is to use tomato paste, you may only need half of a can but you can always add more. If you don't have time to make cornbread, but like the flavor it adds, adding some masa or cornmeal towards the end of cooking will thicken your chili and add some of the flavor you're looking for. If you make it too thick, you can add more both or tomatoes to even it back out.
Can I add smoky flavor to my chili without a smoker?
If you don't have a smoker, or don't want to take the time and effort, you can add smoky flavor using:
Liquid Smoke
Smoked Paprika
Chipotle Peppers
If using liquid smoke I'd start with a little and add more if you feel it's needed. While some of the substitutes are good in a pinch, I don't think anything beats natural smoke, so I'll be taking you through that whole process.
What kind of wood should I use if smoking chili?
I used hickory wood when I made it (I tend to use hickory for most things) but if you think hickory is too strong, you can use apple or cherry.
Now that we've covered all of the basics, it's time to get to the fun part! Making smoked beef chili! This chili is well worth the time and effort to make!  I'll include some tips and tricks to make it as easy as possible.
I've made some tweaks to this recipe, but I used this recipe from Big Green Egg as a starting point.  I increased the amount of garlic and used spices that I had on hand instead of the recommended premixed spice blends. Montreal Steak Seasoning is a good option for seasoning the ground beef, and is pretty common.  
I also mashed some of the beans to serve as a natural thickener as mentioned above.  I made this on a Big Green Egg which I know is an expensive piece of equipment, but this could easily be made on any charcoal grill with enough space for a dutch oven and a one pound meatball.  You could also use a wood pellet grill if that's what you have.
In the future, I'm going to give this a go on the Weber kettle as well. The Green Egg just holds in the heat better during the winter months.  The key is to keep the temperature in the low to mid 200's while generating some great smoke to add to the flavor.  I used lump charcoal and some chunks of hickory.   If you think hickory is too strong, you could also use apple or cherry.
If you just want the recipe and basic instructions here you go, have at it!  If you want the details around how I did this, and some tips for making the smoked chili — keep reading!
Smoked Chili Recipe
Smoked Chili Instructions
Smoked Chili Recipe
1 lbs. lean ground beef
2 tbsp chili powder
1 tbsp ancho chili powder
1 tbsp olive oil
1 medium onion, diced
1 jalapeno, diced
3 cloves garlic, minced
1 can crushed tomatoes 28 oz.
32 oz. beef broth
1 can fire roasted tomatoes 10 oz.
1 chipotle pepper in adobo sauce (minced) + 2 tbsp adobo sauce
2 tbsp cumin
1 tsp cayenne pepper
1 tbsp chili powder
1 tbsp of steak seasoning (for the meatball)
3/4 cup dry navy beans, drained (or 1 can drained 15 oz.)
3/4 cup. dry pinto beans (or 1 can drained 15 oz.)
3/4 cup. can black beans (or 1 can drained 15 oz.)
Kosher salt and black pepper, to taste
Smoked Chili Instructions
A note about the beans used in this chili recipe
You'll notice this recipe uses different chili beans that the red kidney beans you normally see in the chili pot. If kidney beans are what you have, you can of course substitute them.
The night before (if using dried beans)
If you're starting with dried beans, soak them the night before. Using an Instant Pot makes preparing dried beans very easy. Add the dried beans to the Instant Pot with enough water to cover them and allow the beans to soak overnight.
Tomorrow when you start prepping the chili you'll turn on the instant pot and cook the chili beans for 10 min on high pressure. Natural release for 10 minutes, then quick release.
You can certainly use store bought canned beans, but using dried beans is cheaper. We do this frequently and often make more beans than we need so we can freeze the extra for future use.
Don't have an instant pot?
If you don't have an Instant Pot you can follow these instructions for preparing the dried beans, or you can use canned. There is no wrong bean to use really, kidney beans, northern beans, use what you have.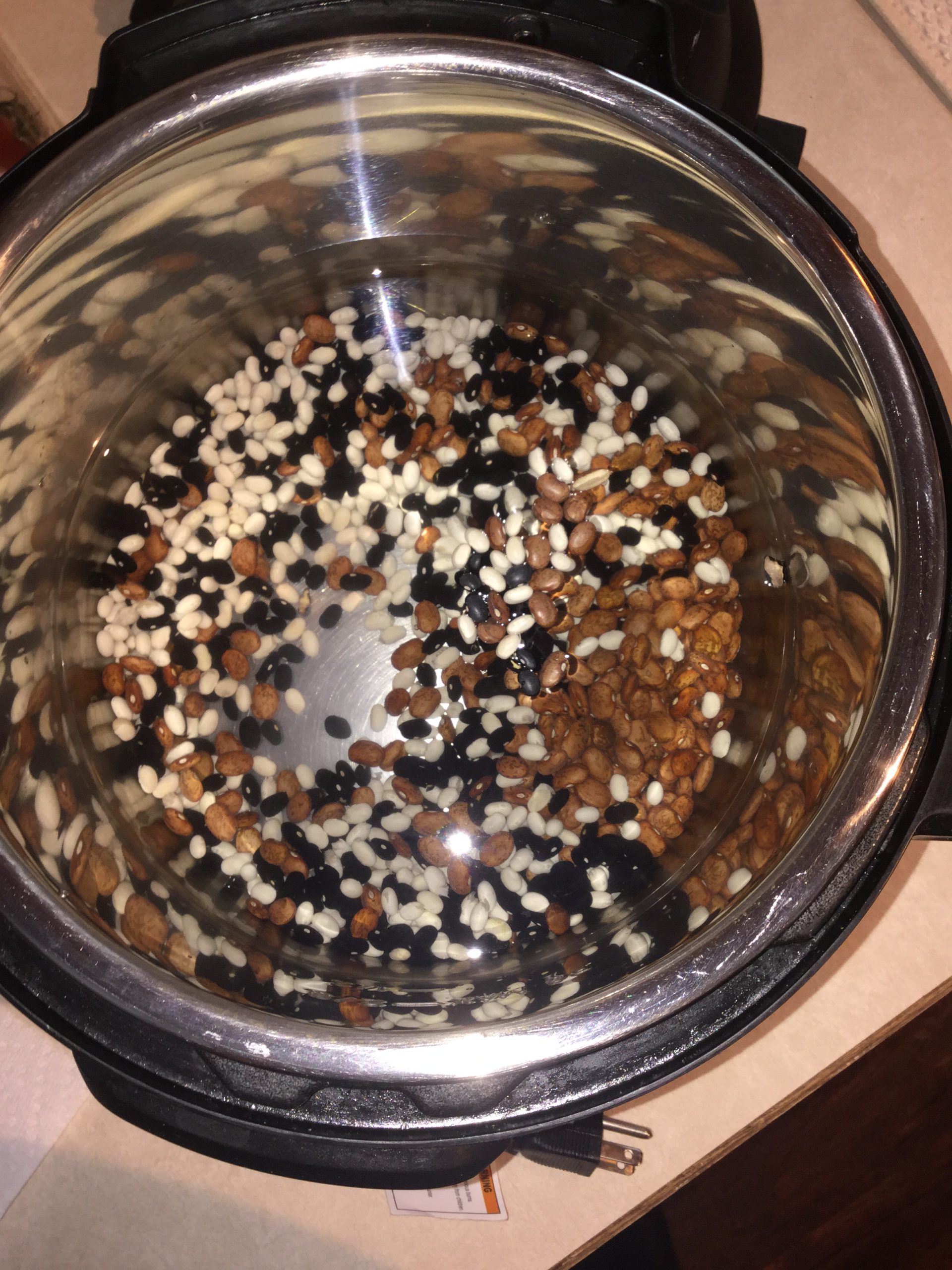 Things will go much smoother when you go out to the grill if you have everything prepped. If making dried beans, turn on the instant pot or start cooking them while you do this prep work
Chop the onion and jalapeno and mince the garlic. Using fresh garlic is much better than garlic powder. Put them in a bowl and set them aside, they will all go into the pot together.  
Next measure out the spices (except the steak seasoning), these can also go into one bowl. 
Finally measure out and chop the chipotle pepper.
When the beans are done (or if using canned) drain them, mash half of them, and set them aside. This is another change I made.  The mashed beans will help to thicken the chili; there will still be plenty of whole beans in the chili.
We're not ready for the meat yet, so keep the ground beef in the refrigerator. If it's going to be awhile before you start cooking the smoked chili you should cover all of this prepped food in plastic wrap and store in the refrigerator as well.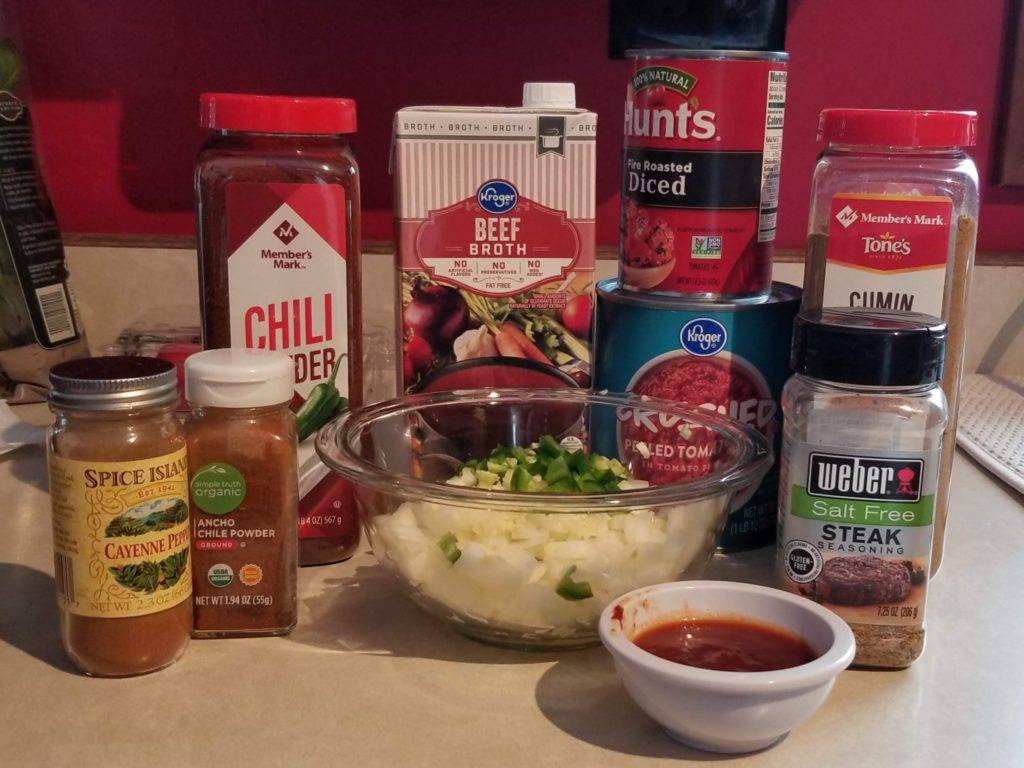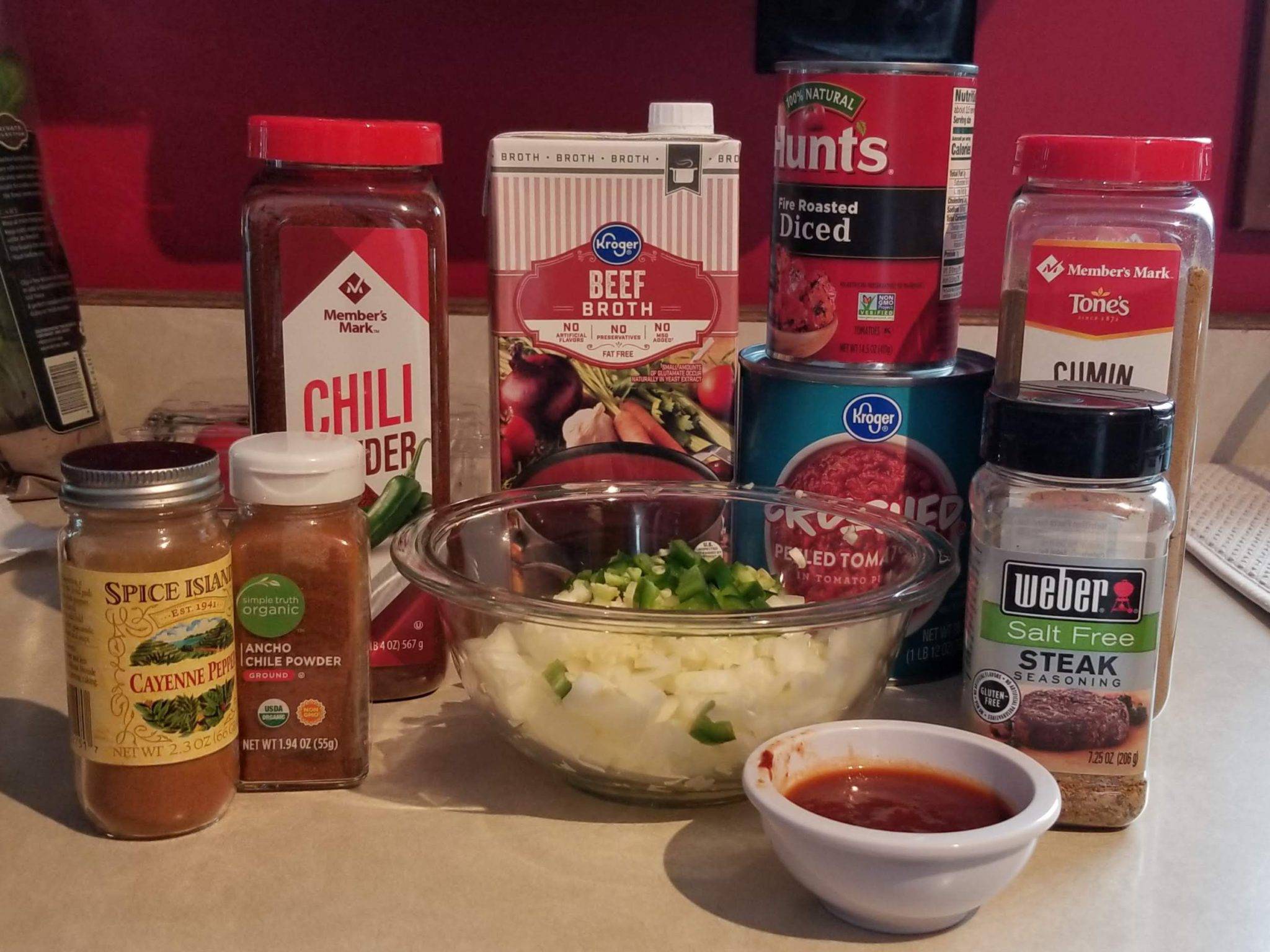 Now that everything is prepped head out and light the grill.  You could do this in advance and let it heat up while you prep everything else, but we're looking for a pretty low heat. If you overshoot it you'll just have to wait for it to come back down.  For something like this, I prefer to keep an eye on it, so I can adjust my vents when I get close to the desired temperature. 
We want to cook the smoked chili at a low temperature (200 – 225 F) over indirect heat.   If your using a ceramic grill like a Big Green Egg or Komodo Joe there is an adapter you can use to achieve this.   It basically turns your grill into a giant convection oven while allowing the heat and smoke to completely surround the food.  Instructions for the Big Green Egg can be found here.  If you're using another brand of ceramic grill follow the instructions from the maker of your grill.
A kettle grill can also easily be setup for indirect cooking by spreading the coals out on the sides of the grill and leaving a large cool spot in the center.   These instructions from Weber will demonstrate how to accomplish this.  If you are going to use a kettle grill for indirect heat I highly recommend you get a couple of charcoal baskets so you can more precisely control the placement of the coals.   It's a small thing, but it makes your life a lot easier.
Load your vegetables, olive oil, spice blend, beef broth and chipotle peppers onto a sheet pan or large cutting board to make them easy to carry out to the grill.   Start by adding the olive oil, chopped onions, raw peppers and garlic to the dutch oven, then sprinkle with a pinch or two of kosher salt. 
There will be a lot of smoke when you lift the lid, you may want to let that clear before getting too close or you'll be crying (and not from the onions). Comes with the territory though, can't make smoked chili without smoke. Continue cooking until the onions start to become translucent and don't let the garlic go past golden brown.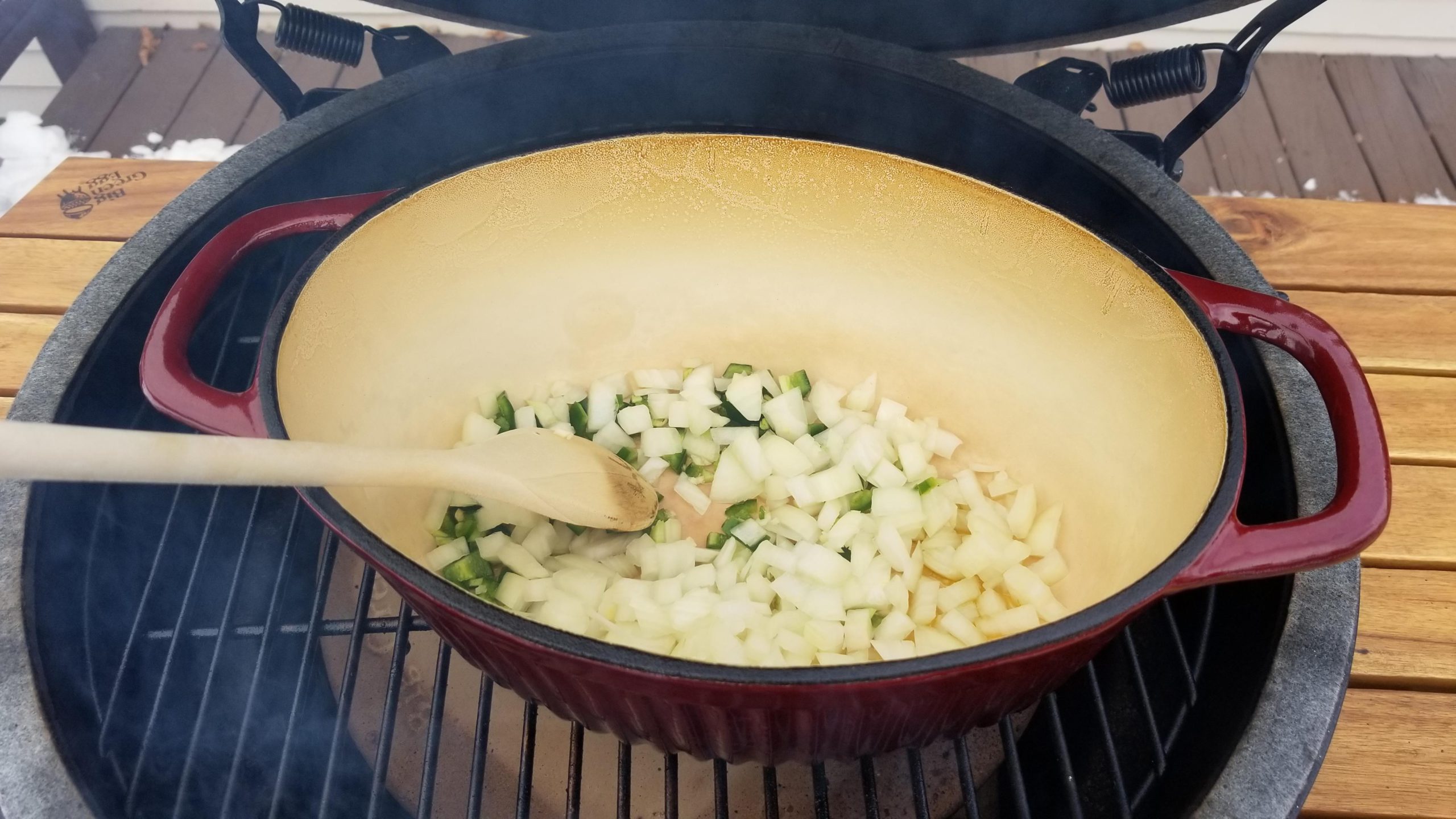 Next add the remaining ingredients; tomatoes, beef broth, beans, chipotle pepper and spices.  Give everything a nice stir and close the lid of the grill.  Keep an eye on the temperature and adjust the vents if necessary to keep the temperature between 200 and 225 F.  I find you don't need the top or bottom vent open very far at all to maintain this.
Head back inside to work with the ground beef. Mix the steak seasoning with the ground beef and shape into a ball. It's recommended that you smoke the ground beef over the chili by resting a small cooling rack on top of the dutch oven and placing the meatball on top.  It turned out that my cooling rack was too large to allow me to close the grill, so I improvised and put the entire grill grate on top of the dutch oven.  Not something I would recommend you do, but it worked.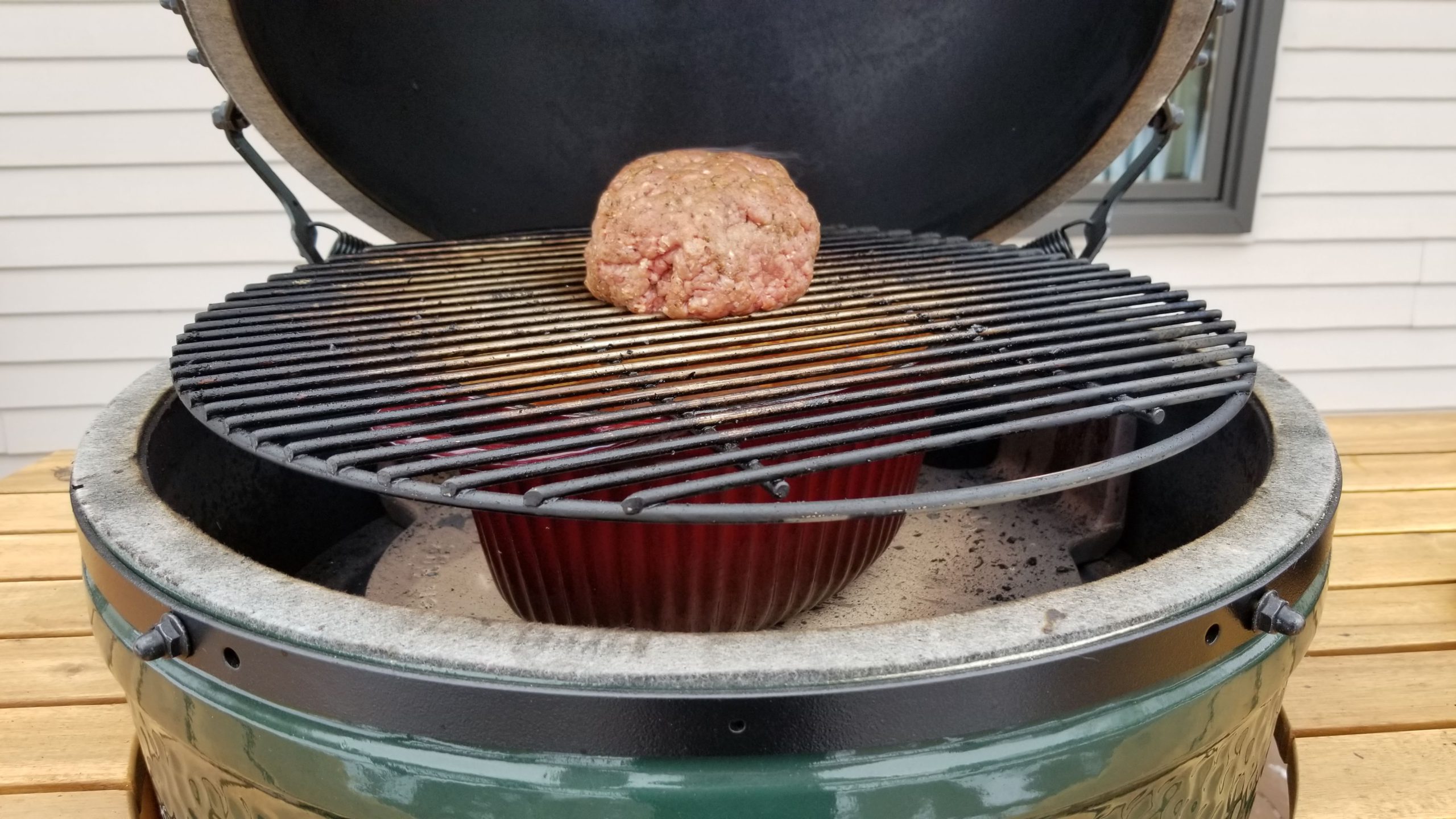 Before the next time I try this, I plan to pickup one of these small cooling racks which should easily fit under my grill lid. If you don't have a cooling rack, or there isn't enough space in your grill to have the meat above the chili, you could just place the meatball along side the dutch oven on the grill grate. Just make sure the meatball is also only getting indirect heat and isn't over the coals.
Let everything smoke for two to three hours stirring occasionally, and checking to make sure the meatball reaches an internal temperature of 165 degrees F.  Cook time is up to you, in my experience chili gets better the longer it simmers, just keep it at a low to medium heat. Then all that is left to do is break up the meatball and stir it into the chili.  Your efforts will be rewarded by something spicy, smoky and delicious!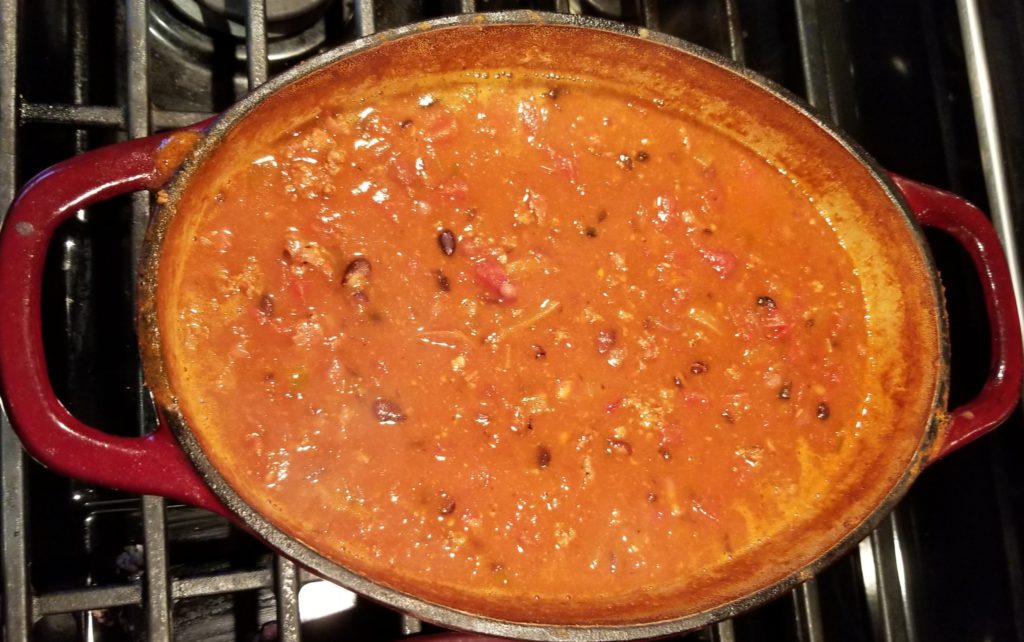 What to serve with smoked chili
I've been a fan of pouring my chili over a piece of corn bread ever since it was served to me that way by the Flying W Ranch on a family trip to Colorado.  I prefer to use a cornbread recipe that has a little sweetness to it.  In this particular case, adding a sweet note to the spice and the smoke flavor is perfect! Don't use a boxed cornbread mix when it's so easy to make from scratch.
Sweet Golden Cornbread
Sweeet Golden Cornbread Instructions
Sweet Golden Cornbread
1 cup all-purpose flour
1 cup yellow cornmeal
⅔ cup white sugar
1 teaspoon salt
3 ½ teaspoons baking powder
1 egg
1 cup milk
⅓ cup vegetable oil
Sweeet Golden Cornbread Instructions
That's it! A hearty chili so good it's worth standing outside in January to make it.  Top it with your favorite toppings (mine are sour cream and shredded cheese) and enjoy! This is easily the best chili I've ever made, and it's even better after it's been in the refrigerator overnight.
If you're sensitive to spice, start small and add as you go.  You can always add more, but you can't take it out. You can leave the cayenne pepper out entirely if you want. You can also substitute green chilis for the jalapeno for a milder spice.
You can also put less spice in the chili and add some hot sauce to individual bowls.
I used two different kinds of chili powder because I had them and I think it adds to the depth of the flavor.  If you don't have ancho chili powder don't worry about it, just use the chili powder you have.
This would probably also be good as a vegetarian smoked chili, forgoing the meatball and swapping out vegetable broth for the beef.  I think the chili itself still picks up plenty of smoke.  Might be worth a try, if you do, let us know how it turns out!
If you don't like cornbread try it with homemade egg bread.  Doesn't chili and fresh bread sound amazing?
Seriously, I can't wait to make this again, try it!